POPENGUINE is a real heaven on earth on the Small Coast at 70 km south of Dakar.
We will give you a warm welcome in this village that has kept its true identity, and is really different from mass tourism areas, and soon you will be charmed by the sweet life and the tranquillity that reign in Popenguine.
You will find peace and calm and you will enjoy genuine Senegalese way of life in a place away from the hustle and bustle of the city, and where time …takes its time.
Let's give yourself a returning to basics and let all nuisance behind you. Isn't it what we all need nowadays ?
Campement Baobab is located at the entrance of Popenguine and offers you traditional lodges decorated with African ornaments where you can rest with total peace of mind thanks to the presence of the caretaker.
They are all equipped with fans, mosquito nets, plugs, a bathroom with shower and toilet.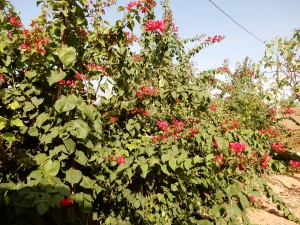 – The Small Lodge : 1 small lodge with a double bed and a bathroom.
– The Big Lodge : 1 big and roomy lodge with 1 double bed, 1 single bed and a bathroom
– The Big "Duo" Lodge : 2 independant bedrooms with their own double beds and bathrooms.
Breakfast included in our rates and a food service can be provided on request.
Let's discover our camp and Popenguine gallery HERE
Come and spend wonderful holidays at Campement Baobab in a welcoming Senegalese village: it is all about peace and calm at the seaside on the Small Coast.
Enregistrer